The Edmonton Metropolitan Region Has Ethnically Diverse Talent
Spruce Grove has access to the region's ethnically diverse talent pool in a wide range of industries. ¼ of the region's population is first generation immigrants. Our ethnically diverse population is inclusive and provides a picture of other parts of the world. Canada's Global Talent Stream Initiative, the best people can be here working for you in as little as two weeks. "I moved here to work with an incredible team," said a new resident of the region.
The Edmonton Metropolitan Region Has Ethnically Diverse Talent
"All that expertise is sitting here waiting for us," said one executive. There are over 130,000 post secondary students attending globally ranked universities with some of the top talent from around the world coming to the Edmonton Metropolitan Region for job opportunities and lifestyle. "This is a young vibrant, modern city offering more resources and alternatives." Once they come, talent stays for the low cost of living, high quality of life and family opportunities, such as found in Spruce Grove. "It's safe and has a lot of opportunities for your kids as they grow," said one resident of the region.
As for businesses - we want them too. "We want more Alberta success stories and we're willing to prove that," said a community leader. Hear more about what he had to say and why top talent is moving to the Edmonton Metropolitan Region by watching Edmonton Global's talent video about ethnically diverse talent.
More Topics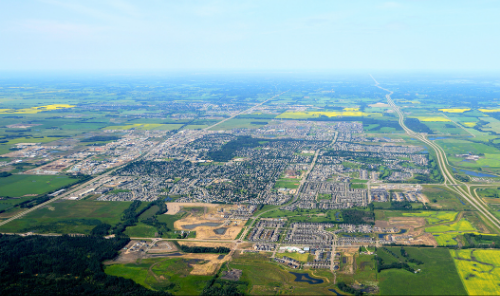 Why Spruce Grove? Spruce Grove is located in the Edmonton region - a region filled with the opportunities that come from being centrally located, connected to the world and having access to the best talent. Spruce Grove, a mid-size city of over 35,000 people, holds a key position within th...
EDMONTON GLOBAL The Global Growth Program (GGP) will help businesses in the Edmonton Metropolitan Region accelerate their entry into international markets through the export of their products and services. WHY EXPORT? Increased sales New customers Diversification of risk Increased competitiveness Access to international supply chains, business partnerships, and a global marketplace of ideas and innovation Learn more.
Spruce Grove, as part of the Edmonton Metropolitan Region, is a destination for opportunities. With the 5th largest economy in the world, Canada is a destination for startups and established companies. Within Canada, the Edmonton Metropolitan Region stands out for talent, access and quality of life. That's why the regio...