ShopHERE Program - Apply Now!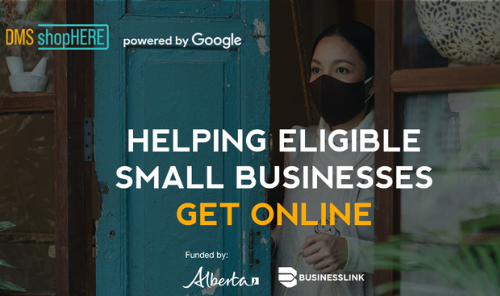 7 Oct 2021
news, COVID-19, Alert
Small businesses in Spruce Grove can now apply for Digital Main Street's ShopHERE Program! ShopHERE creates online stores for independent small businesses at no cost.
Created to support businesses across Alberta, The ShopHERE powered by Google program is supported by Business Link, in partnership with Digital Main Street through the Digital Economy Program (DEP). The Digital Economy Program was designed to support small businesses in Alberta with digital transformation. Click here for more about DEP.
WHAT DOES THE PROGRAM DO?
Creates and configures your online store
Trains you on how to manage it
Works to get the store live
Helps with marketing the store
WHO IS ELIGIBLE?
WHAT ARE THE PROGRAM BENEFITS?
Free 90 day trial of Shopify
Ad credits including $50 for Facebook (while available)
Free .CA domain registration (while available)
WHO IS BUSINESS LINK?
Business Link is an Alberta-based nonprofit helping entrepreneurs start, run and grow their own businesses. Business Link's team of experts provide personalized support for small business owners and aspiring entrepreneurs. They provide one-on-one coaching and advice, market research, access to experts, training, education sessions, and specialized support for Indigenous and immigrant entrepreneurs. Business Link is passionate about providing support services that will build business success in Alberta.